By Dr. Ken Olson
Have you explored Related Forecasts yet?  The SciCast Team frequently adds new questions and new links between questions. The links create clusters of related questions supporting "what-if" forecasts.  We will be showcasing some of those here on the blog.
For example, below we see part of the network linking three clusters of questions: Arctic sea ice, the GBO-4 biodiversity reports, and the Pacific sardine population.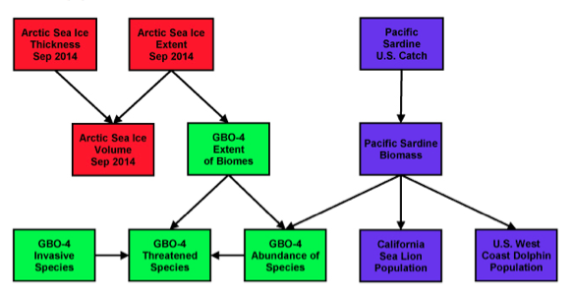 An arc (an arrow leading from one question to another) indicates that we think the outcome of one question might influence the other.  Questions connected by arcs will usually appear in each other's "Related Forecasts" section.  For example, "GBO-4 Biomes" will appear for "Arctic sea ice extent" and vice versa.  Your biome forecast can depend on sea ice extent: presumably a loss of sea ice reduces that biome.