By Dr. Ken Olson
Have you explored Related Forecasts yet?  The SciCast Team frequently adds new questions and new links between questions. The links create clusters of related questions supporting "what-if" forecasts.  We will be showcasing some of those here on the blog.
For example, below we see part of the network linking three clusters of questions: Arctic sea ice, the GBO-4 biodiversity reports, and the Pacific sardine population.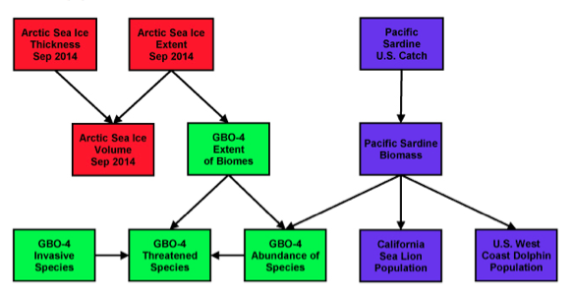 An arc (an arrow leading from one question to another) indicates that we think the outcome of one question might influence the other.  Questions connected by arcs will usually appear in each other's "Related Forecasts" section.  For example, "GBO-4 Biomes" will appear for "Arctic sea ice extent" and vice versa.  Your biome forecast can depend on sea ice extent: presumably a loss of sea ice reduces that biome.
The sea ice loss is a Scenario, and Related Forecasts made in that scenario are SciCast's best "what if" estimates. Like all other SciCast estimates, you can change them.
Related Scenarios Tutorial
Let's use the Arctic Sea Ice Extent and GBO-4 Extent of Biomes questions to demonstrate how to make a Scenario forecast. Search for "sea ice" to find the question, "What will the average arctic sea ice extent be for September 2014?"  You will see six outcome options for Arctic sea ice extent: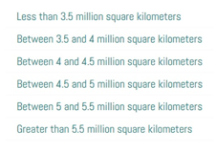 Perhaps, like me, you don't have a clear belief about this question, but you do have a belief about how biomes are related to it.  In that case, just pick the current forecast option…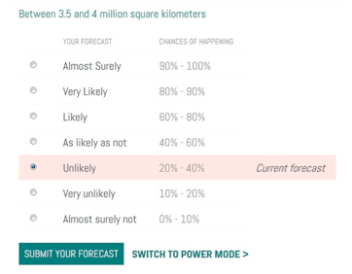 and agree with it: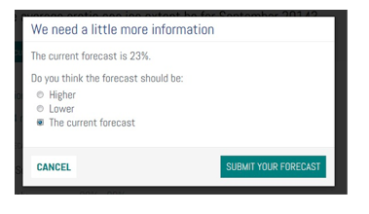 Submit your forecast. At the bottom of the next screen there is the section on Related Forecasts.
Select any outcome on this question (Arctic sea ice extent) to create a Scenario.  How does this scenario affect related questions?
For this example, we choose the biomes question. Proceed as you normally would in answering a SciCast question, but remember all the chances are now conditioned on the middle-low scenario where Arctic sea ice is "between 4.5 and 5 million square kilometers."

If you change the scenario, you should see the probabilities change.  If not, this may be an opportunity for you to improve our forecast and gain some points!
A bigger picture
In case you are interested, the following picture captures the whole cluster as of March 12.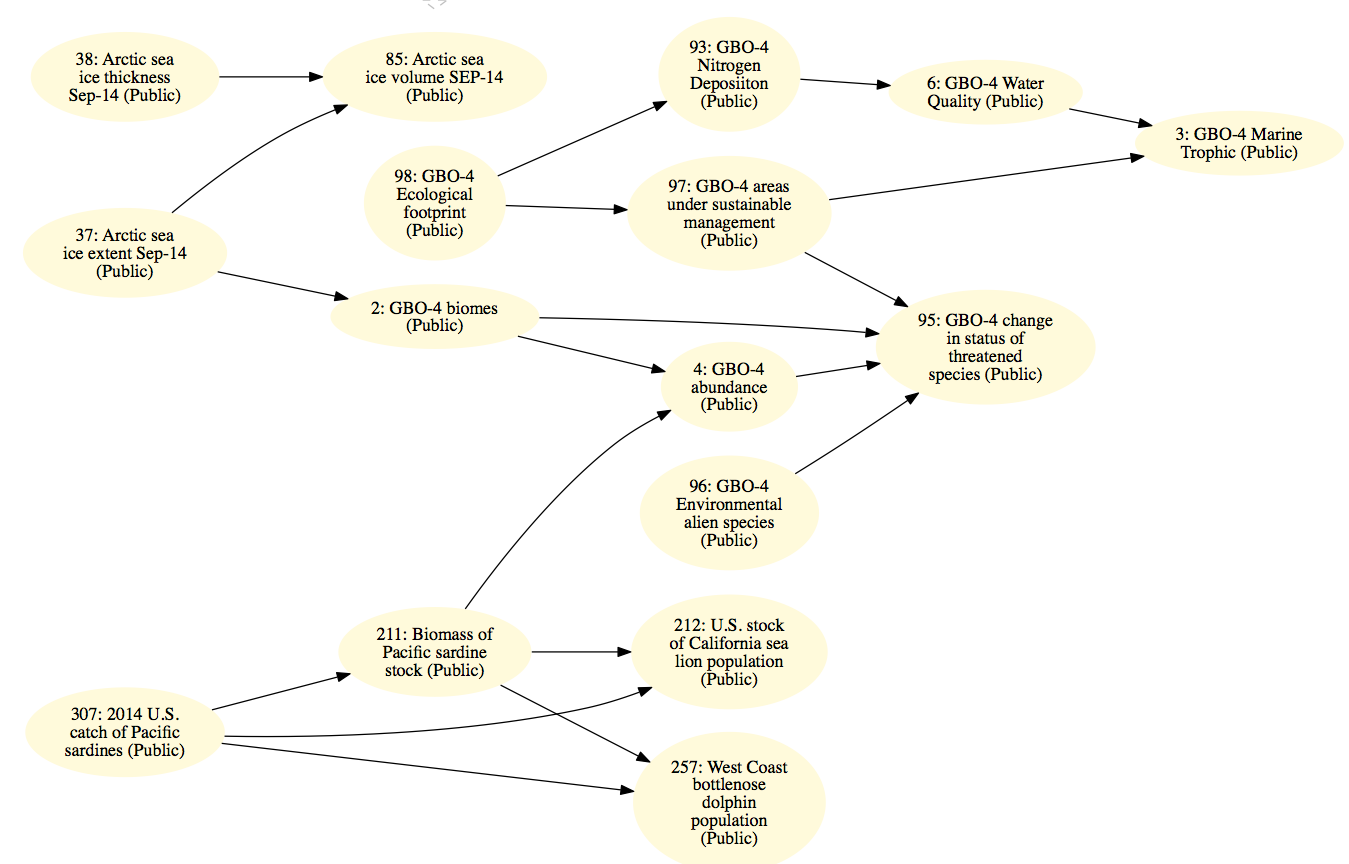 Right now about 115 of our 250+ questions are linked.  We add more questions and more links every week!
If you would like to suggest a link, either:
Leave a comment directed at Admin on one of the related questions, or
E-mail

[email protected]

(you can use the help widget in the lower right of scicast.org.)
Future Work
We would like to add the following features:
Show related questions in the question information
Allow quick access to Related Scenarios, without having first to make a direct forecast.
Introduce a "model builder" like we had last year, but easier to use.